The weather is finally breaking !!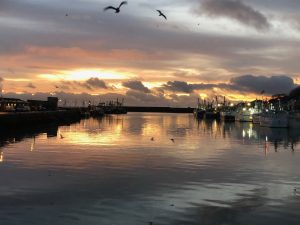 After 3 weeks of gale after gale – today the weather seems to be settling down. Its going colder and we may see a touch of snow in Cornwall !! Something we hardly ever see ! This means the net boats have all sailed today and the smaller boats will be right behind. We are still seeing good landings of Wild Seabass – all caught right under the cliffs here in west Cornwall. Mackerel are still about and the Cornish pilchards (sardines) are coming in.
Tonight we will be smoking the beautiful Haddock we bought this morning. We smoke using the old fashioned method of Just Oak chips and salt. Nothing else ! It makes a beautiful natural smoked product that I love to make chowder with !
I hope your new years resolutions are going well  and thank you for supporting Fresh Cornish Fish !!
Craig