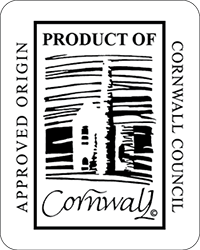 Fresh Cornish Fish have been fishmongers in Cornwall for well over 30 years.
We have been awarded the "Product of Cornwall" status by Trading standards. This award only goes to Cornish businesses who have been inspected and can prove that their products are genuinely "Cornish". Meaning that our fish has been caught by Cornish fishing vessels , landed and filleted in Cornwall.
In a time when the internet is full of "rogue" websites and "scams" you can shop with us in confidence because this scheme provides assurances to consumers and businesses that products displaying the logo are of Cornish origin. A qualified and experienced Trading Standards officer tests and checks all products in the scheme. Fresh Cornish Fish has been awarded this status so you can buy from us with confidence knowing that we have been thoroughly checked and approved by trading standards.
Our shop selling fresh fish in Newlyn is purely a family business. We buy our fish from Newlyn market every morning and sell it directly to the public all over the country.
Our family has lived in Newlyn for many generations. All were christened and buried in Paul Church so our family tree is easily traced back to the 1700's.
My great grandfather John Henry Tonkin lived in what is now known as Tonkins Cottage in Newlyn and owned three fishing boats. He also modelled for Stanhope Forbes in the painting of a man sculling a punt by Newlyn lighthouse. This painting now hangs in the Manchester Art Gallery.
My father was a fisherman and my sister works in our shop in Newlyn. If you're in Cornwall why not pop in and see her? She's great to have a chat about recipes with. She will also prepare your fish for the plate whichever way you want it.
I was born in Newlyn and have worked here for over 25 years in the fishing industry. I have been buying fresh fish from the market for over 20 years and I will personally select the fish for your box.
If you're wondering why our fish is significantly cheaper than other websites you may have looked at, the answer is simple.
I personally go to the market and select your fish straight from the fisherman and then send it to you. There's no middle men. I don't fill my fridge and then attempt to sell it.
We don't use unnecessary packaging. Your fish will be placed in zip lock bags in an insulated sealed cardboard box with ice packs then  strapped with nylon strapping.  Once it arrives you can portion up and store your fish as you wish.
Fresh-Cornish-Fish.co.uk believes in sustainable fishing methods and so whenever possible we only buy from small, day boat fishermen. There are two very good reasons for this:
Hand line fishing is the most sustainable form of fishing there is. Undersized, immature fish are returned to live another day.
Day boats are just that – they land their fish every day. (Not going to sea for weeks at a time, a method some supermarkets use to source their fish.
This fish has a much better shelf life so you can keep it in your fridge for longer with no need to freeze.
So why put up with fish that's been on a display counter for days on end? Order your fish straight from Newlyn , Cornwall and have it delivered to your door within 24 hours !